How would you feel if you are in control of the outcome in any situation? Self-Management is the secret sauce you must know and practice!
You heard it right. There is a tried and tested Self-Management strategy that I use in my personal life, and have seen relationships recover from the most vulnerable phase, businesses turn around their growth, teams win in the worst possible scenario, people come out of the biggest shitholes in life.
Do you want to know what that elixir to solving all your problems is? Well, read on.
It's not going to come that easy! You need to work with me on an experiment first. 😊
I know some of you may be skeptical till you see the result of the Self-Management technique I am referring to, so my ask of you is to leave your skeptic-self out of the door for the next few minutes (at least) if you want to see and feel the magic.
Agreed? Then, Let's get started!
Developing Self Management Skills with Live Practice
Think of a problem in your life right now or an area of your life where you are not getting the desired results.
Now take a piece of paper, and pen down your candid answers to the questions below.
👉 What's wrong?
👉 Why do I have this problem?
👉 How long have I been facing this problem?
👉 What does this problem stop me from doing what I want to do?
👉 Whose fault is it that I have this problem?
👉 When was the last time I experienced this problem?
Now take a Deep Breath & Reflect on how answering these questions was like. What emotion are you experiencing right now?
Well, if I am right, you don't feel great about your current state right now. Also, lot of overpowering emotions have suddenly come in and clouding your brain. 😣
---
Don't worry! Sip a glass of water, calm down, and we will solve for this in just a few minutes. 😇
You're not wrong if you experienced these emotions. You just haven't found the right way to Self-Management (which is what you will find out very soon!)
Well, as I mentioned earlier, there is a way out which is what we will discover together for you.
Now to shift from the BLAME FRAME we need to pivot the approach and change the questions we ask ourselves. As, someone rightly said, "Great results begin with great questions."
It will not be surprising if you found these questions a little familiar. This is the most common way in which people frame their problem situations for themselves. This is what the Blame Frame represents in Neuro-Linguistic Programming (NLP).
These blame frame questions are problem-oriented and lead to experiences of limitation and lack of choice. You seek explanations of why you are in the current situation, why you don't have what you want, which also makes you give excuses and justifications. The more you think about the problem, the deeper you get into it.
It's time now to move to Phase 2 of our experiment. Use the same problem context which you were thinking about and try responding to the below questions.
💡 What do I want?
💡 When do I want it?
💡 How will I get to know I have it?
💡 When I get what I want, how else will my Life Improve?
💡 How can I best utilize the resources I have?
💡 What other resources can help me?
💡 What is the first step I can take towards achieving what I want?
We're done. Now take a deep breathe again and reflect on what answering these questions was like.
Compare the emotional state you are in versus how you felt while responding to the first set of questions.
You would be feeling renewed energy, sense of control and a state of positive emotion towards action you can take to achieve your goal. Well, there you have it — this is the formula I was talking about. It's called moving to an Outcome Frame in Self-Management Approach.
"Answers are closed rooms; and questions are open doors that invite us in."


Nancy Willard
When you are in the Blame Frame, you tend to drive more emphasis on what's wrong (and it makes you feel powerless and incomplete) and the more you think about it, the more excuses you come up with and the problem becomes environmental which you have no control over.
In fact, the moment you shift to the Outcome Frame (Solution Oriented or Growth Mindset), you starting thinking about the future and resources, and you get a renewed sense of hope and enthusiasm. Responding to this apparently insurmountable problem is now in the realm of your choice and control. And, you are ready to take the first action of getting closer to the outcome you desire with this Self-Management strategy.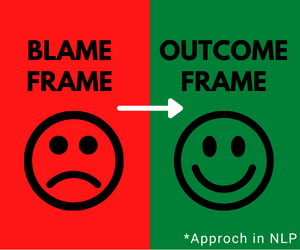 To sum up, Remember to not Judge the situation or people, because the more you do it the more of a fixed mindset you will invite. The moment you change your questions from Judger Questions to Learner Questions (which is what we did in our experiment), you will set yourself up to solve the biggest problems of your life and achieve the goals you desire.
"Learner/Judger Questions We all ask both kinds of questions, and we have the power to choose which ones to ask in any moment."Marilee Adams

Go ahead, take that action, win over your problem, and change your Life! It's a choice in your hands now. 💪
Self-management is a critical workplace skill. Refer the FAQ below to learn what it is, and how to improve your own self-management skills.
What is Self-Management?
Self-management refers to our ability to manage and control our behaviors, thoughts, and emotions in a productive manner. Self-management means you have high self-awareness of your personal responsibility in different aspects of your life, and you effective fulfill your responsibilities.
What are the key Self-Management Skills?
Here are the 7 Key Skills for Effective Self-Management:
Self-management skills are crucial for success in both personal and professional life. Here are some details on key self-management skills:
Self-Awareness: Self-awareness is the ability to recognize and understand your emotions, strengths, weaknesses, values, and motivations. It helps you understand how your actions affect others and make better decisions. Self-awareness can be developed through self-reflection, feedback from others, and mindfulness practices.
Thought Clarity: Thought clarity is the ability to think clearly and logically, organize ideas, and communicate them effectively. It helps you make informed decisions, solve problems, and communicate effectively. Thought clarity can be developed through critical thinking, effective communication, and mindfulness practices.
Time-Management: Time-management is the ability to prioritize tasks, manage time effectively, and meet deadlines. It helps you accomplish tasks efficiently, reduce stress, and improve productivity. Time-management can be developed through goal setting, prioritization, delegation, and effective planning.
Adaptability: Adaptability is the ability to adjust to changes, handle uncertainty, and learn from experience. It helps you cope with unexpected situations, stay open to new ideas, and improve resilience. Adaptability can be developed through self-reflection, learning from experience, and being open to feedback.
Effective Prioritization: Effective prioritization is the ability to identify and focus on the most important tasks, goals, and responsibilities. It helps you use your time and resources more efficiently, reduce stress, and improve productivity. Effective prioritization can be developed through goal setting, time-management, and effective decision-making.
Ability to Regulate Emotions: The ability to regulate emotions is the ability to manage emotions effectively, recognize triggers, and respond appropriately. It helps you handle stress, build positive relationships, and improve communication. The ability to regulate emotions can be developed through mindfulness practices, self-reflection, and communication skills.
Self-Care: Self-care is the ability to take care of your physical, emotional, and mental health. It helps you reduce stress, improve well-being, and maintain work-life balance. Self-care can be developed through healthy habits, setting boundaries, and self-reflection.
In summary, self-management skills are crucial for personal and professional success. Developing self-awareness, thought clarity, time-management, adaptability, effective prioritization, ability to regulate emotions, and self-care can help you achieve your goals, reduce stress, and improve well-being.
What are the key benefits of Self-Management?
The key benefits of self-management are:
Improved Productivity: Self-management skills allow you to prioritize tasks, manage your time effectively, and stay focused on your goals, which can significantly improve your productivity.
Reduced Stress: By managing your time and resources effectively, self-management can help you reduce stress and achieve a better work-life balance.
Increased Self-Awareness: Self-management skills also help you become more self-aware, which is the foundation of personal growth and development. It helps you recognize your strengths and weaknesses, values, and goals, and make informed decisions accordingly.
Improved Decision Making: Effective self-management allows you to think clearly, analyze situations objectively, and make informed decisions based on facts and evidence.
Better Relationships: Self-management skills can also improve your interpersonal relationships. By regulating your emotions, communicating effectively, and being empathetic, you can build positive relationships with others.
Increased Resilience: Self-management skills help you develop resilience, which is the ability to cope with stress, setbacks, and challenges effectively. It allows you to bounce back from difficult situations and learn from your experiences.
In summary, self-management skills have many benefits, including improved productivity, reduced stress, increased self-awareness, improved decision-making, better relationships, and increased resilience. Developing these skills can help you achieve your personal and professional goals and lead a fulfilling life.
About the Author: Anurag Jain is an Executive and Leadership Coach with 15+ Years International Business Leadership Experience managing diverse set of teams, across the Consumer and Tech Industry. Anurag Loves to write about Business, Leadership, Digital Marketing, Self-Improvement, Personal Development. You can subscribe to his blog here or follow him on Medium, for interesting updates related to these areas.
Source: The framework of Neuro-linguistic programming (NLP) was developed in the 1970s at the University of California, Santa Cruz. Its primary founders are John Grinder, a linguist, and Richard Bandler, an information scientist and mathematician.
Do let me know if this article about Self-Management made a difference in your life and what positive shift did you experience.
If this read piqued your interest, do subscribe to this blog as I will continue to publish lot of unique experience from my personal life around leadership and coaching, to help you supercharge your growth. 🚀