Attention Entrepreneurs, Business Owners, Career Professionals, and Beginners!
If you've ever wondered how Artificial Intelligence (AI) can revolutionize the business landscape, or felt overwhelmed by the rapid technological advances and questioned how to stay relevant, this article is tailor-made for you.
Are These Your Pain Points?
Confusion about how to apply AI effectively in your business.
Losing countless hours to repetitive tasks that could be automated.
Feeling the pressure as competitors seem to effortlessly integrate AI.
Intimidated by tech jargon, assuming AI is only for the tech-savvy elite.
Being a beginner and assuming AI in business is beyond your grasp.
If you find yourself nodding, take heart! The rapid rise of AI in the business world has left many feeling adrift, but the solution is here.
---
Introducing: "10x Your Business Growth and Leadership Impact With AI – Masterclass by Anurag Jain."
---
Why is This 30 Day Masterclass a Game-Changer for You?
Demystifying AI: This course doesn't just skim the surface. Dive deep into AI, understanding its core and how to utilize it for your unique business needs.
Expert Mentorship: Learn directly from Anurag Jain, a titan in the business world, with hands-on experience in pioneering AI-driven strategies at global giants.
Practical Application: Move beyond theory. Engage with real-world projects, group activities, and hands-on AI integrations.
Certification: Upon completion, receive a certification, a testament to your newfound expertise, enhancing your professional credibility.
Cash Prizes: Participate in course contests and stand a chance to win substantial cash awards!
Internship Opportunities: Display exceptional prowess and you might just land an internship, diving deeper into the world of AI in business.
Begin Your Business Journey: Regardless of your current professional standing, by the end of this course, you'll be equipped with the tools and know-how to initiate your own AI-driven business venture.
---
Course Deep Dive: What Awaits You?
In this 30-day intensive masterclass, you'll not only understand AI but master its application, positioning you at the vanguard of the business world.
Days 1-4: Kickstart your journey with an in-depth understanding of AI's transformative potential in business. Learn the art of niche identification and how AI can be a catalyst.
Days 5-8: Transition from conceptual understanding to real-world application. Whether it's website creation, e-commerce optimization, or digital marketing, learn how AI can be your secret weapon.
Days 9-12: Dive into the customer-centric side of business. Understand the magic behind AI-driven customer support, feedback analysis, and personalized customer experiences.
Days 13-16: Move beyond traditional business operations. Discover how AI is revolutionizing HR, finance, and other business functions.
Days 17-30: The culmination of your journey. From ideation to execution, learn to build an AI-driven business from the ground up. Engage in group projects, get feedback, and refine your strategies.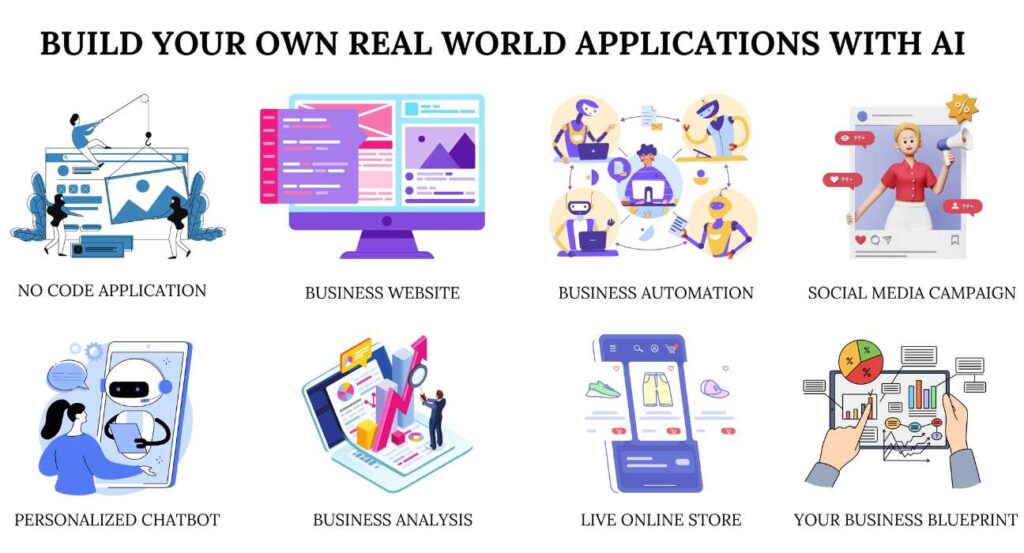 ---
Your Investment:
Priced at INR 49,999 (699 USD), view this not as an expense, but an investment. An investment in your future, ensuring you're at the forefront of the AI-driven business revolution.
---
Are You Ready to Embrace the Future?
The age of Artificial Intelligence Business Opportunities is upon us. Now is the time to equip yourself with the skills, tools, and insights to not just survive but thrive in this new era. Don't let tech jargon or lack of experience hold you back. This comprehensive "Artificial Intelligence for Business Course" is your roadmap to success, regardless of where you currently stand.
🌟 Exclusive Offer: For our readers, we have a special early-bird discount! Spots are limited, and they're filling up fast. Ensure you don't miss out on this transformative opportunity.
👉 Enroll Now in the AI for Business Masterclass with Anurag Jain!
Remember, the future belongs to those who prepare for it today. Take the leap, enroll in the masterclass, and turbocharge your journey in the world of AI-driven Business Analytics and Artificial Intelligence.
---
About the Architect of This Journey: Anurag Jain
A blend of profound business acumen and fervor for technological innovation, Anurag Jain has been the force behind global giants like Amazon and Johnson & Johnson. This masterclass distills his decades of wisdom, offering you a fast-tracked, intensive learning journey.
---
Are You Ready to Shape the Future?
AI isn't just a tech trend; it's the future of business. And with this masterclass, you're not just learning about the future; you're becoming an active shaper of it. 🚀